The Living Legacies 1914-1918 World War One Engagement Centre launched this week in Belfast. One of five UK-wide centres funded by the AHRC to connect academic and public histories of the First World War, the centre is a collaboration between Queen's University Belfast, University of Ulster and National Museums Northern Ireland.
At the launch event both Vice Chancellors warmly welcomed the initiative and the collaboration, as did the NMNI's Director Tim Cooke, with Professor Richard Grayson of Goldsmiths, University of London, giving a lecture in which he drew on his own family history to explore aspects of the history of the First World War as it impacted on Ireland.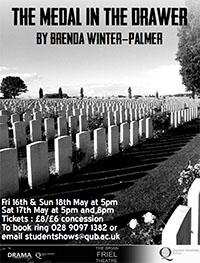 But it was the excerpt of the play 'The Medal in the Drawer' by Brenda Winter-Palmer that took centre stage at the University of Ulster venue on Monday evening. Performed by second-year Creative Arts students at Queen's University, the play charts the war-journeys of four volunteers who join up to fight with the 36th Ulster Division and the Connaught Rangers. Tensions on the streets of Belfast are never far from the minds of the protagonists as they prepare for war, questioning each other and themselves about their motivations for joining the war effort. At the end of the excerpt we saw, the spirit of death arrives to touch each of them…
It provided both an act of commemoration and an important reminder of the intimate links between the personal and the political, the past and the present, connections which the Centre will itself be exploring as it seeks to bring the academic and the public together over the coming months and years. Click here to read more about the play and the family history behind it in the Belfast Telegraph.